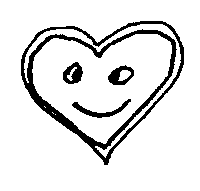 You will need:
2 pieces of red felt pot-pourri
2 large eyes
1 mouth cut from scrap felt yarn or lace for a fringe

How to: (A two-part craft)
1) Have Beavers cut two hearts about 12 cm by 10 cm.
2) Glue the two pieces together, leaving the top opened.
3) Set aside to dry.
4) Fill heart with pot-pourri, and glue top.
5) Glue on eyes, mouth and fringes.

** For Beavers who find it difficult to cut heart shapes, suggest a square or round cushion shape.

---
Source: York Summit District Crafts for Beavers