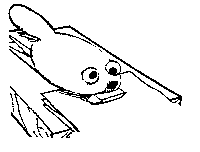 You will need:
Wood scrap 8-15 cm, any shape
sandpaper
clothespin
brown felt
googly eyes

How to:
1) Smooth rough wood edges with sandpaper.
2) Glue clothespin to block of wood.
3) While glue dries, cut Beaver shape from brown felt. (You might supply a pattern.)
4) Glue beaver to clothespin.
5) Glue eyes to Beaver.

---
Source: York Summit District Crafts for Beavers