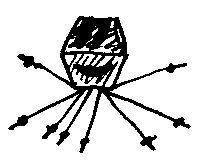 You will need:
2 sections from an egg carton
black yarn
white paper

How to:
1) Glue together the two cup sections.
2) Paint glued together sections the colour of your choice and let dry.
3) Knot one end of the yarn.
4) Attach eight yarn tentacles with glue to the bottom.
5) Cut eyes and a mouth from paper and glue in place.

---
Source: York Summit District Crafts for Beavers