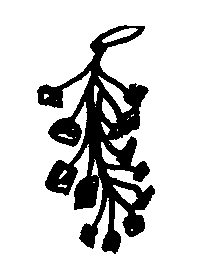 You will need:
1 egg carton
kitchen foil
ribbon

How to:
1) Cut twelve egg-cup sections from an egg carton.
2) Cover each section with foil, folding the foil over the edge of each cup.
3) Make a small hole through the top of each egg cup.
4) Cut twelve long pieces of ribbon.
5) Push one end of ribbon through egg cup and tie a knot.
6) When all of the ribbons have been tied through all of the cups, gather the ribbons together and arrange so the cups will hang at different lengths.
7) Hang bells on a door.

---
Source: York Summit District Crafts for Beavers