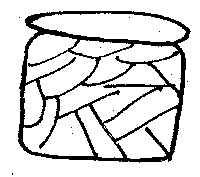 You will need:
small baby food jar
masking tape
paint

How to:
1) Make sure the jar is dry on the outside.
2) Rip pieces of masking tape and stick them to the jar. Continue all around the jar until the jar is completely covered.
3) Paint the tape with the paint. Before the paint is dry, wipe it off. The paint will leave a faint colour on the tape itself, but will leave a darker colouring around the edges of the tape.
4) Set aside to dry.
---
Source: York Summit District Crafts for Beavers