| | |
| --- | --- |
| | www.gtrsi.com |


June '98
---
Return To

GTR Home Page
---
Page
---
LAFF Means Serious Fun
ByRob Selby, Director of Camping, GTR

If your answer to any of the following is "yes" STOP READING IMMEDIATELY!


I joined Scouting in order to:

wash more dishes
grocery shop
mop floors
make sure the kids dress appropriately
cook breakfast, lunch & dinner for large groups
get up early
go to bed late
sit with a sick child in the middle of the night
clean up spills.
If you are still reading, then you joined Scouting for other reasons; most likely to spend quality time with young people and offer them leadership. Unfortunately, the activities listed are those which most Scout Leaders find themselves involved in when they go to camp, with brief periods of quality time with their youth interspersed. Admittedly the performance of these more mundane tasks are essential to the smooth operation of any camp and when the youth are involved with you in them, may be viewed as quality time. However, may we suggest that at least once each year, your Group should have a camp experience in which you can concentrate 100 percent of your time and attention on your youth.
The Greater Toronto Region offers a camp program that affords you the perfect opportunity to focus your time and efforts where they should be, with youth. At the same time, the program ensures the other more practical needs of the Group are fully met. The program is called LAFF, which stands for Learning, Adventure and Fun. Some people ask, what's the other "F" stand for? And the answer is "More Fun".
LAFF weekends operate at Woodland Trails Scout Camp. Groups are accommodated in the newly renovated Leathem Scouting Centre (formerly the Woodland Trails Scouting Centre).
Professionally cooked nutritious and tasty meals are served cafeteria style. No shopping or cooking this weekend! We do ask that you assist with the cleanup, but we have a dishwasher! The most important and exciting aspect of LAFF, however, is the variety of program opportunities offered. A professional outdoor reaction specialist plans, coordinates, leads and instructs you and your youth in fun, educational, and adventurous activities starting Friday night right through Sunday noon. All activities are based on a theme for the weekend. Look at the interesting and exciting themes being offered this coming year:


| | |
| --- | --- |
| Map & Compass | October 30 - Nov. 1/98 |
| Campcraft (Scouts) | November 27 - 29/98 |
| Winter Camping For Cubs | January 15 - 17/99 |
| Winter Camping For Scouts | January 29-31/99 |
| Winter Camping For Cubs | February 12 - 14/99 |
| Winter Camping For Cubs | February 26 - 28/99 |
| Nature & Environment (Cubs) | April 23 - 25/99 |
| Mountain Biking (Scouts) | May 7 - 9/99 |
| Rocketry & Astronomy (Scouts) | Mav 21 - 23/99 |
At LAFF, you will get a well deserved reprieve from the more mundane activities of running a camp weekend and have the opportunity of doing what Scouters enjoy most, spending time with their youth. But that's not all! We Guarantee that you will learn something of practical value that will add to your leadership skills. If you don't, we'll refund your personal fee for the weekend. LAFF weekends cost $49.00 per person (including Leaders). A $200 deposit is required upon booking. Registration is limited to 40 people per weekend. For further information or to reserve a spot for your Section, call today! (416) 490-6364, Ext.233
---
Page 2
POPCORN '98 IS WHERE IT'S HAPPENING IN SCOUT FUNDRAISING
By Paddy Batenian
Editor

This could be as big, or bigger, than Girl Guide Cookies!

That's the hope of Scouts Canada, Greater Toronto Region (GTR) Finance Director Chuck Mcllravey, who recently took time to provide some background into a program that is increasingly becoming an important source of program funds for several Regions around the country.

"The Popcorn Program started in the U.S. where it is the major fundraiser for Scouting at all section levels," explained Chuck, "and we believe it can be just as effective for us in Canada."

Calgary was the Popcorn Program groundbreaker in this country. Its first program was launched eight years ago, and now generates more than $1 million annually in gross sales. Approximately one-third of the ten Regions in Ontario presently take part. "GTR has been involved in the Popcorn Program for the past three or four years with varying degrees of success," says Chuck. "This year, however, we're planning on a very strong push behind the Fall sale with more support in prizes and improved marketing across the city to give the Scout Groups the added support they need. Our Volunteer Popcorn Team has great ideas for 1998."

A Popcorn Program Kick-Off Dinner is planned for October. It will be hosted by GTR, and chaired by volunteer Popcorn Chair Doug Mason. Attendees will include 12 Area coordinators, and a representative from each Scouting Group that plans to participate in the campaign. "I'm really very excited about the enthusiastic response we;ve had from our Area coordinators, and other Popcorn Program participants." says Chuck, "and the Kick-Off Dinner will be the perfect jump-start."

"We have 14,000 members involved in Scouting in the GTR," adds Chuck, "so the numbers who might take part in the selling effort could be extraordinary. That's why it's so important to get everyone started in the right frame of mind."

Popcorn sales can generate significant amounts of money for both Scouts Canada Greater Toronto Region Groups and Regional programs.

A most important factor in the new fall 1998 Popcorn Program is that 69% of the profit will be specified for the Groups, 11% for Group incentives, prizes and programs and 20% for GTR. There is a greater opportunity for Scouts who are selling to obtain more prizes and the addition of "several new lower selling levels" should create more interest.

"These funds are very important to the Scouting Groups and GTR," explains Chuck, "because they assist Groups in having the ability to pay more of the cost of registration fees, camping fees, special programs for youth with little or no cost to the individual and a host of other activities that are so important to the development of our youth at all levels of involvement. GTR will use its funds by putting them back into Scouting Programs for our Region."

The popcorn that Scouts will be selling across GTR in November will be available in a wide array of varieties: unpopped, popped, regular, microwave, buttered, low-fat, chocolate-covered, caramel corn, etc. There's literally a popcorn for almost every possible taste.

As far as Chuck's concerned, one of the biggest benefits of the Popcorn Program is that it gives individual Scouts an opportunity to help self-finance their own Group's programs.

"It helps them to learn," he says, "how they gain directly in proportion to the effort and energy they put into the program, and that's a lesson that will serve them for the rest of their lives."
---
BOOK YOUR SPACE NOW FOR APPLE DAY
Apple Day 1998- Friday to Sunday - October 16, 17 & 18
For anyone who's not sure, Apple Day usually occurs on the weekend after the long weekend in October (Thanksgiving).
We start booking the malls and other places of interest in May and by the end of June confirmations are being sent out. So even though this event doesn't take place until October, it is important for your Group to book their favourite spots now.
Each Area names a Co-ordinator for this event who you will usually meet at your Area Forum Meeting. If you can't attend, make certain someone from your Group does so that we can eliminate an awful lot of duplication as the time gets closer. Your co-ordinator can answer all of your questions... prices for apples, tags and crests as well as where and when apples can be picked up.


About those Reports...
It is because of the hard work of your volunteer Area coordinator and the permission we receive from the Metro Licensing Board that we have Apple Day. You see, in Metro we can't have a Tag Day without first seeking permission of the Licensing Board. The Board is really a safeguard to ensure that the number of organizations canvassing on any given day is kept to a bare minimum. It's a protection for us.
There is a cost, however, and that cost is an honest accounting of the activities of the day. This is by no means a detriment to us. It's really an aid. We must report within weeks of the event, how we done. It's the law.
Please don't shoot the messenger. If we are to continue to have successful Apple Days, we' have to cooperate and work together.
Let's be honest, by Sunday night of Apple Day all you Group Leaders in Metro Toronto know to the penny how much you've made. Let your Area co-ordinator know so they can finish their Area report.
If we are to continue Apple Day in Metro, it's essential that our reports be accurate. Let's start now to prepare a list of malls, strip plazas, owner's names, addresses, etc., and get it to Frank Grisbrook at Scout House (490-6364, ext 244).
Thanks for your help and understanding.
Ron Nicholson
Chair, Apple Day 1998
---
ADULT SCREENING WHY.....AND WHY NOW?
By Adrian Barker,
Regional Group Service Chair

Until a year ago when talk of volunteer screening began, most adult Scouters probably had no idea what PRC meant. Now we know that it means Police Record Check and ask, "why" and "why now?"

Some ask why and others why did it take so long! All volunteer organizations dealing with children should be concerned if they are not instituting similar programs. After the problems in junior hockey, any organization that is not protecting its youth, is not protecting itself and its volunteer members.

Greater Toronto Region has instituted a full guide on the Screening process that will be rolled out to all Areas, for the 1998/1999 Scouting year. The Alders and Bendale were test areas in 1997, and the process has been refined and upgraded as the year progressed. Screening workshops have been run in all Areas and is where all GTR groups should have had a minimum of two Group members attend to learn about the process in a full presentation.

All new Group volunteers (Leaders, and Group Committee members) will be subject to an interview with the recruiting Group Committee; be asked to provide three character references; a Police Record Check; serve a three month probationary period (only Scouting under supervision), and agree to take Part I training within one year. None of the screening process is optional.

ALL adult members must sign on their membership form that they agree to a Police Record Check. A PRC is valid for five years. Again, this is not optional.

PRCs were originally free, however, there is now a charge of $16.05 per PRC that is levied on Scouting by the Metro Police Services Board and this charge is the responsibility of the new volunteer's Group.

This process is to protect our youth, our volunteers and the fine name Scouting has had with the Canadian public during the past 90 years.

It is important that every Group in GTR get on board with the Volunteer Screening Program, as it is National policy. Please consider this as yet another way to enhance a challenging and fun Scouting program that is safe for all participants. Remember our youth deserve this.
---
Page 3
THE PARENTS AND KIDS SHOW
October 16-18, 1998
Our participation in this Show is one of the BEST TOOLS we have to market Scouting in Toronto.
We look after lost children, help parents at the escalators, do face painting, pop and distribute popcorn, and talk to kids and parents about Scouting.
Of course we could have said: "We look after lost parents, help children at the escalators, paint popcorn and distribute faces, as well as talk about Scouting to everyone who stops at our booth."
We get to this mind-boggling stage, especially when we are short on the commitment of competent, reliable help, and especially when, again this year, the Parents and Kids Show falls on the same weekend as the Scouting Apple Day.
We tried our best, but didn't get anywhere convincing the Show Management that they couldn't have the Parents and Kids Show the SAME weekend as OUR APPLE DAY....soooooooooo.....
For the weekend of October 16, 17 and 18, we are looking for some INNOVATIVE, COMMITTED, RELIABLE, Leaders, Venturers and Scouts who think they can manage BOTH functions and still smile at the end of the weekend.


Volunteer NOW - it will save us hav-
ing to telephone you and twist your
arm in September. Think of it as your
local community Apple Day week-
end and your megacity Trade Show
and you are going to DO YOUR
BEST at both events.
Seriously, we do need lots of good help, and hope to see you there. Make a note of the dates (October 16, 17, 18) and call: 416-490-6364. Ask for Harry Bruce, or dial ext.228.
---
Go To The Calendar
---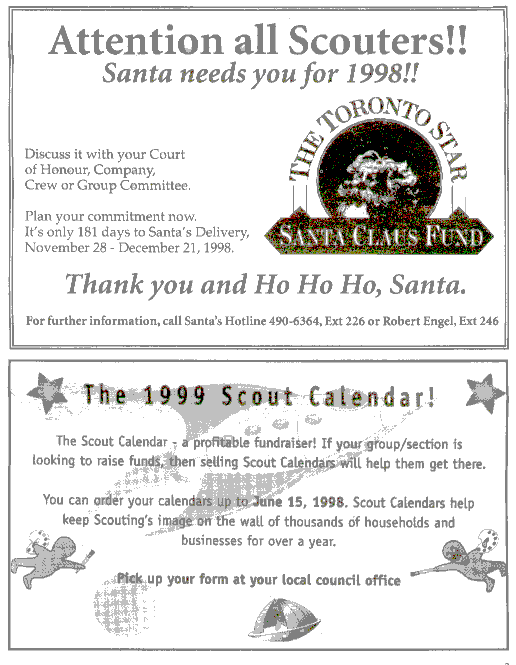 ---
BUSH HAT CHIN STRAP REMOVAL
By Gene Fisher, Scout Shop Manager
It has come to our attention that the chin strap on the bush hat may become a potential choking hazard with young members. After researching the current information from various consumer and product safety sources on drawstrings found on children's outerwear, our National Retail Services has made the decision to immediately remove the chin strap from all Bush Hats currently in stock at Scout Shops and from their warehouse inventory. The manufacturer has been advised that all Bush Hats purchased by Scouts Canada are now to be assembled minus the chinstraps.
The reason for removing the chin strap from all Bush Hats is that they are sold by size and not as "adult" and "youth" products. A youth member could conceivably wear the same hat as some adult members. As these hats are marketed to youth, the only responsible option is to remove all draw strings. Since the hat's introduction, we have had no accidents or incidents with the hat.
We are asking Leaders to pass this information on to parents so that the parent may make an informed choice on whether to keep the chin strap or not on their child's Bush Hat.
Scouts Canada will continue to monitor consumer safety issues and respond to any concerns as quickly as possible if any of our products are affected.
---
Scarborough Canada Day 1998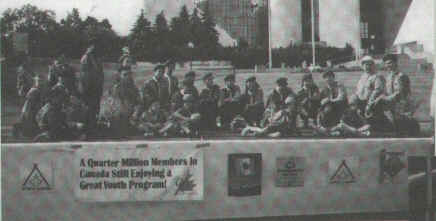 Scarborough's Canada Day Picnic and Parade will again be held in 1998. Scouts Canada leads off with our traditional Pancake Breakfast in Thomson Park. We will need lots of volunteers starting at 7 a.m. We will repeat our highly successful "campfire" float in the parade which forms up on Borough Drive at 5 p.m.
All members of Scouting are invited. For more information, contact Harry Bruce at 490-6364, extension 228.
---
GONE HOME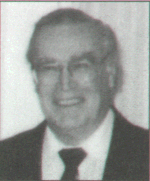 Robert W. (Bob) Wall
1931 - 1998
It is with a deep sense of regret that we inform you of the passing Bob Wall, April 27, 1998, in his 67th year. Husband to Sylvia, father to Carol (former member of GTR staff), Janice and Marilyn, and grandfather of Danielle and Anne.
Contributing to Leadership in Scouting since 1951 when he started as a Scout Leader with the 194th Toronto, Bob held many positions, Scouting, including Service Scouter, Trainer, Area Commissioner (twice), Sponsor Representative (17th Scarborough West) and Life Member. Scouting honours included the Medal of Merit and the Silver Acorn.
Retired from Canadian National Telecommunications in 1983, Bob served as a full-time volunteer at the Regional office since 1993. His contribution was significant and greatly appreciated. working with diligence behind the scenes, he was tireless in his efforts to compile and verify membership information. Dedicated to helping others, a caring individual who always placed others first, many will remember Bob as a person they come to for support. He was a wonderful listener and valued counselor for many in our office.
Many Scouts and Scouters will remember Bob as an enthusiastic organizer and supporter of both the CNE Service Corp, providing assistance to Seniors visiting the Canadian National Exhibition, the Black Creek Pioneer Village Corp, a joint Scout/Guide service project and the Star Santa Claus Fund package delivery. To many, he was affectionately known as Dad.
Since 1956, Bob had been a devoted and active member of the congregation of West Ellesmere United Church, chairing a number of committees, including the Christion Education Committee (which included the Church School, Scouts Canada and all other mid-week activities) and the Church's Official Board.
A large number of Scouting friends, including a uniformed Scouting colour guard, joined many other friends from his church for a memorial service at West Ellesmere on April 29. In lieu of flowers, the family has asked that donations be made to the Hearth and Stroke Foundation of Ontario, West Ellesmere United Church Audio Visual Fund or Scouts Canada.
---
SCHOOL PERMITS 1997-98
School permits end the week of June 15, 1998
SCHOOL PERMITS 1998-99
School permits for the 1998-99 season will be mailed to the Group Committee Chairperson of Groups who made application, by the end of August. School permits for the 1998-99 season will start the week of September 14th (the week after school opens).
For further information, contact: Shirley Godwin, School Permit Clerk, Scouts Canada, Greater Toronto Region, tel.(B) 416-490-6364 Ext.224.
---
ATTENTION: PRESENT AND RETIRED PETRO CANADA EMPLOYEES
Scouts Canada, National Office, has brought to our attention an opportunity for funding that we would like to share with the members of the Greater Toronto Region. Petro Canada has a program in place for employees, both present and retired, which would allow Scouting in GTR to receive donations from Petro Canada. Simply put, all one needs to do is be and employee or retiree of Petro Canada who is a Scouting volunteer, to contact their head office for information about the National Community Investment Program. The company will then provide an application and if approved a cheque is mailed to the employee/retiree to present to the level of his/her choice. The standard amount is $300.00. This can be given to a Section or Group, a District or Region.
Please take advantage of this opportunity and provide at no cost to you financial support for our Scouts of the Greater Toronto Retion.
For further assistance contact Chuck McIlravey at GTR - 416-490-6364 (Ext.239)
---
Go To Area News Page
---
HARBOURFRONT CENTRE
HarbourfrontKids Camps take place June 29-4 September, 1998 and offer Toronto's best selection of day camps for ages 4-17. Everything from sports to creative arts to leadership development is offered, along with a nutritious meal plan, an on-site nurse, trained and experienced counsellors, and of course, fun!
Call the Camps Hotline at 973-4093.
M.Y.O. CRAFTERS WORKSHOP
It's crafter's heaven - "make your own" almost anything in its 5,000 square foot workshop, studio and kitchen place, located at 100 The East Mall in Etobicoke. Ingredients, materials and tools are available to begin your project, as well as the latest ideas and "how to" information. Call them at 252-5035 for more details and costs or just drop in and have a look around.
HERITAGE TORONTO
Three of Toronto's historic homes are giving children an opportunity to participate in hands-on programs that vary from scavenger hunts to printing programs using a 150-year-old printing press. A great outing for Groups and children 3 years and up. All programs are 1.5 hous and cost #3.50 per child. For central information on the three famous houses, call 392-6827.
ROVER MOOT CANCELLED
The National Rover Moot planned in Nova Scotia from August 22-30, 1998, has been cancelled due to insufficient registrations. The Nova Scotia Provincial Council will be refunding all money to those who did register for the event. Thanks to all those individuals who worked hard to plan this event.
SANTA'S VILLAGE
Santa's Village, a family theme park located in Bracebridge, entertains children ages two to eleven and adults with rides, shows and attractions along with the chance to visit with Santa Claus at his summer home. The park is open from June 15 through Labour Day and offers special group rates. Make any day in the 1998 season Ontario Scouts Day. Call (705) 645-2512 for rates and hours or E-mail santa@muskoka.com.
MAD SCIENCE OF TORONTO
Call 630-5282 for information and costs on introducing children to the spectacular world of science. Workships and special events are tailor made to suit budget and interests. Laser light shows, model rocket launches and mind boggling illusions are just a few of the exciting topics offered in awesome demonstrations that each child can participate in. these spectacular science shows are educational and fun for any size group of children.
CORRECTION
Change of date for Black Creek Pioneer Village's "A Soldier's Life" to Saturday, June 20. For more information, call Neil Samut at (416) 736-1733, ext.432.
CNE Scout Service Corp - the correct telephone number for contact Pam Harris is (416) 444-3897.
WILD WATER KINGDOM
You still have time to book the second annual Scout and Girl Guide Jamboree Weekend, scheduled for June 5, 6 and 7 at Wild Water Kingdom. For only $16.95 per person, you can enjoy, not only a two-night camp out, but also two fun-filled days at Wild Water, including a special "lunch box" menu. Call (905) 794-0565 or (416) 369-0123 and ask for Alice Lee or Dan Grantham.
MEL LASTMAN SQUARE
What could be better than events that are free this summer? From a July 1 Canada Day celebration and fireworks to regular Friday and Sunday night music concerts, it's all happening in North York. Call the Event Hotline at 395-7350.
ONTARIO SCIENCE CENTRE
Thrill your senses in the Centre's dome screen OMNIMAX Theatre, where you can choose from a "Cosmic Voyage" through time and space or witness the power and beauty of "Alaska: Spirit of the World". Maybe "Thrill Ride" is for you - the ultimate rollercoaster ride! Call 696-1000 to pre-book your tickets or call 696-3127 for general information on the Science Centre, located at 770 Don Mills Road.
THE ISRAEL SCOUT FRIENDSHIP CARAVAN 1998
Come and enjoy this special show on Friday, August 21, at the "Israel at 50 Pavillion", Hall B, National Trade Centre - CNE. Show Time: 2:00 and 5:00 p.m.
DONATIONS IN MEMORY
OF JAMIE SMALL
17SW Group Committee Donation
(Campership Fund)
OF J. GORDON KEELE
George W. Kerr (Campership Fund)
OF HARRY COULSON AC Packaging Association of Canada
GENERAL DONATIONS
Peter Kolisnyk (Camp Development)
Ontario Hydro Employees Charity Trust
Edmunds Ozols (Campership Fund)
---
GONE HOME
NELLIE BRYAN, Mother of Don Bryan formerly of Scarborough West and Oshawa Region and Sandy Badov of Humber West, passed away suddenly February 18, 1998. Nellie was a great supporter of Scouting, especially Rovering, for the 1st Toronto.
It was with sorrow that we advise you of the passing away of Life Member HERB WOLFSON. Herb was a Commissioner in the Willowdale Area and the old York Downs District. Before coming to Toronto he was an active Scoutmaster in Sudbury and Oshawa, Ontario.
GEORGE FERNIE, originally from 41st Group in Seton and the old Riverdale Area, suddenly passed away on March 25. George was quite active in Toronto Scouting and when he retired from Toronto he was the holder of two medals. George retired to Newcastle, Ontario.
GORDON J. KEELE died peacefully at home on March 19, 1998 in his 98th year. Gordon was a long time member and supporter of Westmoreland/Westennial United Church and a Lifetime Member of Scouts Canada.
LEW GRIFFITH, former Deputy Provincial Commissioner and a long-time Cobourg Scouter, passed away on April 1.
HARRY COULSON, former Regional Commissioner 1980-83, passed away on April 6, 1998.
It is with sadness that we advise you the April 16, 1998 passing of MARY GAZIUK, mother of Anne Hartwell. Many Scouters, especially those in the Ladies Auxillary, have had the pleasure of working with Anne and offer their sincere sympathy on her loss.
---
The Scouters listed on Page 8 completed training in GTR between November 30, 1997 and May 30, 1998.

Scouting in GTR has benefited greatly from the time, effort and commitment of these Leaders.
Scouting News is printed 5 times a year for
Scouts Canada in the Greater Toronto
Region, 265 Yorkland Ave, North York
M2J 5C7. Tel: (416) 490-6364

Editor: Paddy Bateman
Top of Page
Home

Disclaimer: Anything posted to this Home Page
are the opinions of the individuals who posted them
and are not the views of Scouts Canada.