Extreme Adventure and SCOUTSabout
---
New ideas to support our traditional base of support
Another big part of the excitement of our national campaign will be the introduction and launch of two new Scouts Canada programs: Extreme Adventure and SCOUTSabout.
As additions to our program offerings, neither one of these new programs is intended to impact our core programs. In fact, they are aimed at reaching young people that we never have reached before.
Making good use of the Angus Reid survey and focus group materials we recently gathered, Scouting has a pretty clear picture of what these programs need to be. The research clearly suggested that a segment of the Canadian youth population are looking for "short term" projects. These kids are different than the many who have in the past and will continue in the future to enjoy Scouting's traditional programs. In other words, this is a way to increase Scouting's membership by reaching young people with programs based on the same values and principles that we've made such good use of for nearly 100 years.

Getting Extreme
Extreme Adventure is intended to involve youth (14-17 years old) we are not currently reaching through our core programs. Participants will choose from a menu of Extreme Adventure activities, register as Scouts Canada members, then proceed to prepare, plan and execute their adventure.
These programs will be less formal, activity based, adventure programs, typically three to 12 months in duration. They will be conducted without uniform, or Scouting's promises and laws.
Examples of Extreme Adventures could include such things as Scuba Diving, Cycle Touring, Hiking or Water Activities - but each with an extreme twist making them appealing to young people who might otherwise never experience these things. Leaders of our Extreme Adventures will likely be enthusiasts in these exciting, outdoor activities.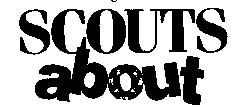 SCOUTSabout is a winner!
Designed to be an informal, theme-based, structured play program for five to 10 year olds, SCOUTSabout makes use of Scouting's values and principles, but without using ceremonies and uniforms. It is to be offered on a seasonal, three-month basis, not as a full-year, like "core" programs. It can be offered in partnership with schools or other community organizations and is flexible in the number of days per week it is delivered.
GTR has already had an opportunity to pilot test this exciting program and see it as 100% successful. A community partnership with the Jane/Finch Community and a local school was tested this past spring and found to be right on the mark with the 28 happy participants, aged eight to 10.
The best of both worlds
Leaders for these programs will be registered and screened as any other adult volunteer in Scouting would be. Furthermore, these programs and participants will comply with BP&P and the Camping/Outdoor Activity Guide. Important to note, these activities will not be a burden on exist ing Service Teams as they will not be asked to service these activities.
All of this is consistent with what we learned from the Angus Reid survey - while a large number of Canadians like our programs just as they are, we can reach out to new members by delivering these new programs. The result is that we can continue to offer Scouting in what many might refer to as our traditional way, while at the same time offer new and exciting ways to reach youth and involve them with Scouting through Extreme Adventure and SCOUTSabout. It's the best of both worlds.
Taken from GTR's Scouting News - September '00