Scouts Canada
Greater Toronto Region
Sunnybrook Area

News and Information - January 2000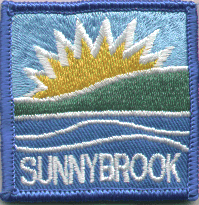 Back to GTRSI
Scouts Canada - Mission Statement
To contribute to the development of young people in achieving their full physical, intellectual, social and spiritual potential as individuals, as responsible citizens and as members of their local, national and international communities through the application of our Principles and Practices.
Thank you for your support. of the new group registration process, implemented this year. Especially we thank the group committee members and in some cases section Scouters, who submitted and reviewed their registration documentation at our area registration day and the region registration nights. Due to your commitment, every group in the Sunnybrook Area was registered by December 1, 1999. Well done! We appreciate your comments and suggestions to improve the process for registrations in 2000/2001
Training News
The following Scouters completed their Woodbadge Part II Training Courses in the fall 1999. These Scouters will be formally recognized and presented with their well earned Woodbadges during January and February 2000.
| | | |
| --- | --- | --- |
| Fiona Empke | Service Team | Service |
| James Adams | 2nd Don Mills | Pack |
| Cathy Marsden | 8th Don Mills | Pack |
| Terry Honour | 15th Toronto | Pack |

Congratulations Scouters


Area Youth Representative
The Greater Toronto Region (GTR) has a very active and involved Youth forum. The Chair of the forum is a member of the Region Key 4, with the Regional President, the Regional Commissioner and the Regional Executive. Three members of the Youth Forum Executive are voting members on the Regional Executive Committee. The forum is comprised of youth, usually Venturers and Rovers, within GTR from the twelve areas and the forum executive is nominated from these representatives. At present, the Sunnybrook Area is not represented on the Regional Youth Forum. We have opportunities for interested youth to be involved with the decision making process which will affect the members of our area as well as the region. Advisors, please ensure that your Companies and Crews are aware of these opportullities.




Toronto Star Santa Claus Fund
Again, during the Christmas season, Scouts Canada Greater Toronto Region volunteered to assist the Toronto Star with their Santa Claus Fund Program. Our youth, leaders and parent helpers delivered over 18,000 "Star Santa Boxes" to needy youngsters throughout the city. For some, these were the only presents they received. The groups in the Sunnybrook Area continue to be active and important members of the worthwhile community service project. The Toronto Star, the coordinating committee, your service team and Santa thank you for your valued participation and for putting our Mission Statement into practice.




Sunnybrook Area Kub Kar Rally
Attention all Cub Packs!! The Sunnybrook Area will operate a Kub Kar Rally on Saturday April 15,2000 at the Don Mills Centre in the Centre Court. An announcement will be mailed to each Akela in the area. First, second and third place trophies will be awarded in three age categories and each participant will receive a crest. This uniformed event is an excellent opportunity for our youth to interact with our community. We urge you to include this event in your Pack Plan. Participate and have fun! To register, for further details or to offer service please contact Terry Honour at home 446-0778 or at work 733-4681 ext. 5420 We thank Terry and his committee for organizing this event.




Sunnybrook Area Beaveree
Attention all Beaver Colonies!! Your Colony Service Team has a preliminary plan for an Area Beaveree to be held on Saturday April 29, 2000 at Sunnybrook Park. We need your help to ensure an exciting, fun filled day long event for our Beavers. Each Colony will be asked to run a game or a craft. Each Colony should have a representative on the planning committee. Please complete and return the attached "Preliminary Information Form" by February 15, 2000.




Your Sunnybrook Service Team
| | | | |
| --- | --- | --- | --- |
| Francis Chan | Field Executive | Office | 416-490-6364 ext.243 |
| Ants Evard | Forum Chair | Home | 416-225-7173 |
| Bev Blake | Honours&Awards | Home | 416-431-4061 |
| Doreen Thompson | Area Webmaster | Home | 416-423-9700 |
| Terri Pieper | AAC Colony | Home | 416-447-0933 |
| Fiona Empke | Colony | Home | 905-881-8758 |
| Barbara Ann Young | Colony | Home | 416-449-1213 |
| Doug Watson | Pack | Home | 416-755-2383 |
| Mike Wilcox | Pack | Home | 416-449-3985 |
| Bill Walker | Troop | Home | 416-222-4841 |
| David Barata | Troop | Home | 416-759-3427 |
| Arnold Kenton | Older Youth | Home | 416-759-6579 |
| Ches Marshall | Commissioner | Home | 416-447-6224 |
Good Scouting!
SUNNYBROOK AREA BEAVEREE 2000
"THE OLYMPICS - BEAVER STYLE"
APRIL 29, 2000
PRELIMINARY INFORMATION FORM
COLONY:___________________________________________________________

REPRESENTED BY:___________________________________________________

MAILING ADDRESS:___________________________________________

EMAIL ADDRESS:_____________________________________________

PHONE NUMBER:______________________________________________


(One person from your colony should be available to attend the planning meetings for the Beaveree. These meetings will be held at Scout House. One meeting at the beginning of March and one meeting at the beginning of April.)
THE THEME FOR THE BEAVEREE IS THE OLYMPICS (in honour of the summer Olympics being held this year in Sydney.
OUR COLONY WILL BE DOING A: _______GAME_______CRAFT
(Remember to keep your activity to less than 20 minutes)
Briefly describe your colony's activity:
We estimate that _______ Beavers and _______ leaders/adults will attend the Beaveree from our colony. Don't forget to include your Keeo!
Please return this sheet to

Fiona Empke
Sunnybrook Colony Service Team
22 Simonston Blvd.
Thornhill, Ontario L3T 4L1
Phone: 905-881-8758
Fax: 905-882-4696
E-Mail: fempke@inter1og.com